An artist based in Suffolk
My working life has been a series of overlapping events, which provides the source of inspiration for my art. The thread that connects them all is the need to create with my hands. Serving as my agents, my sculpture and paintings offer a version of myself I am otherwise not able to achieve easily.
As you navigate this site, two disciplines emerge: making art and caring for ancient art. Although organised here separately, there is great synergy in their representation.
Photo by Graeme Bruce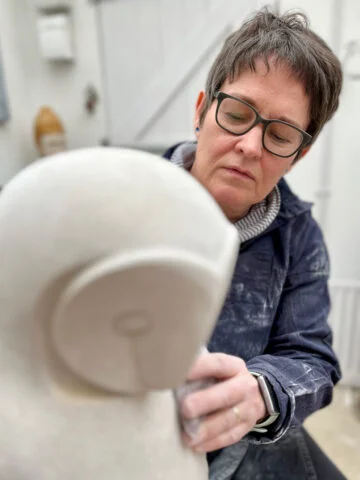 Artwork
You spoke of 'originals', of images that exist solely in the creative spirit but that can be realized and made visible in physical matter. Long before an artistic form acquires visible reality it has already existed as an image in the soul of the artist!
View pieces
Photo by A. Hockton
Conservation
This work, each single cut, easily described and frightening, allowing for no mistakes, was executed on a single held breath lest the hand slipped.
…sparing your hand, preserving it from such strain as heaving stones…
View pieces